What's New in Empire SUITE?
Date: September 2017
Summary:
Employee Types
We've added the ability to create and manage different employee types – Full-time, Part-time, Contractors, Exempt, etc. – and also define different data entry requirements by employee type. For example, your Exempt employees may be required to report 40 hours per week and report their time in sequence, but Contractors or Part-time employees may have different reporting requirements – they can record less than 40 hours in a period, or they can skip timesheets during periods when the contractor or part-time employee is not working. From the Administration page, select View Employees, then select an employee to launch the Edit User page: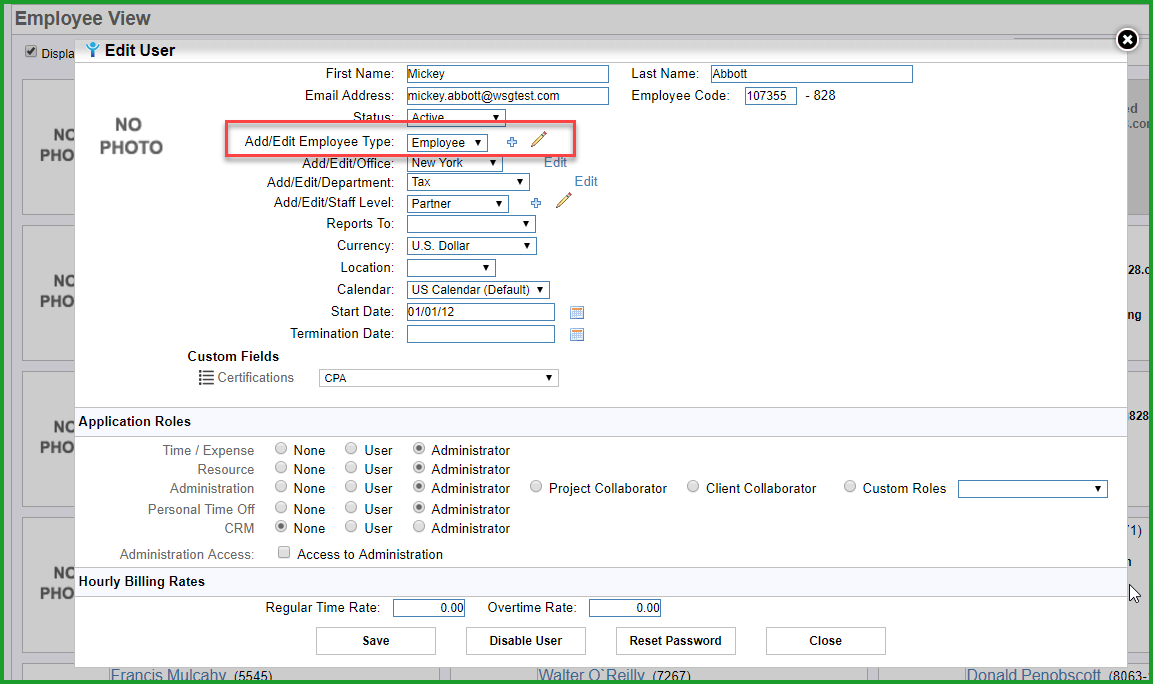 Figure 1 – Employee Types
To add a new employee type, click the 'plus' icon. To edit an existing employee type, click the pencil icon: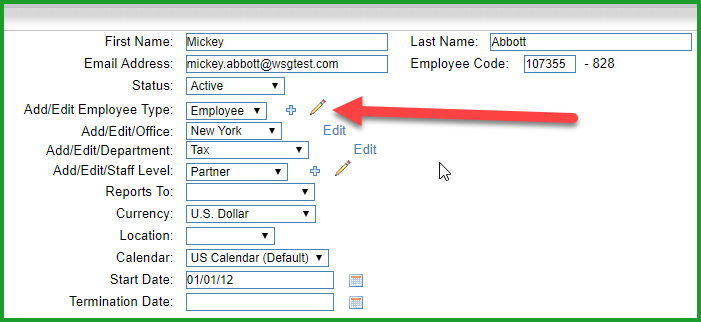 Figure 2 – Editing an Employee Type
For example, you may want to add a Contractor employee type with a different combination of Data Entry Requirements than your employees. Click the plus icon to launch the Add New Employee Type Setup page: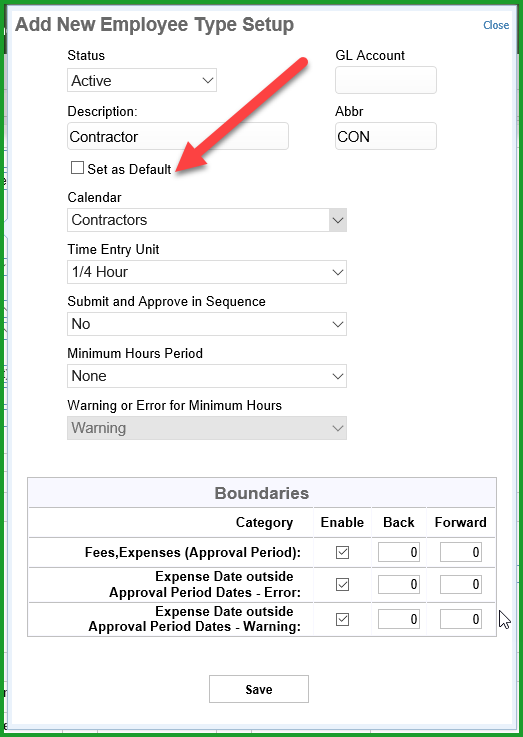 Figure 3 – Creating an Employee Type
You can designate an employee type as the default when adding new employees by clicking the Set as Default checkbox. All new employees added will be assigned the default employee type.
Office/Department Hierarchies
We've added the ability to create multi-level office and department hierarchies so your configuration can align with your business structure. If you'd like to set up hierarchies for offices or departments, let us know and we'll configure your tenant with the required levels. Once that's done, you can manage the different nodes from the Administration \ View Employees \ Edit User page. Click Edit to open the office or department page: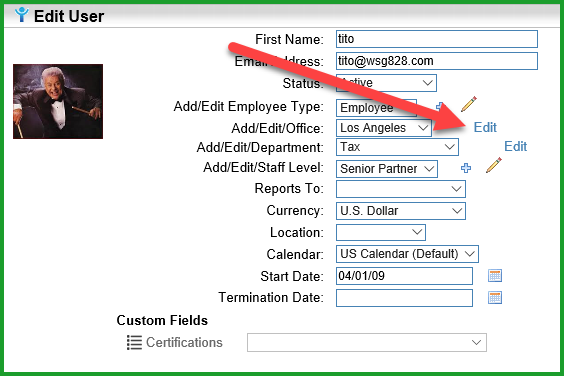 Figure 4 – Office Hierarchy Main
Click the plus or minus icons to expand or collapse the hierarchy: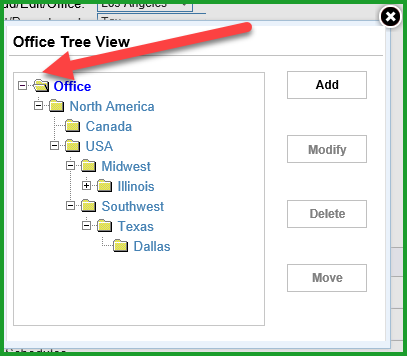 Figure 5 – Hierarchy Details
To add a node, click the level above where you want to add a node, then click Add. For example, if you want to add a new East territory in the USA, click USA then Add: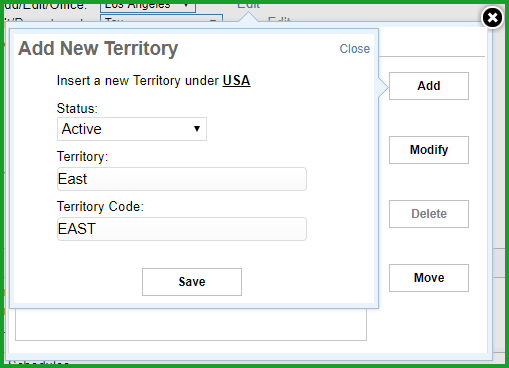 Figure 6 – Adding a Hierarchy Node
Click Save when done to save your work.
To modify a node, click the node, then click Modify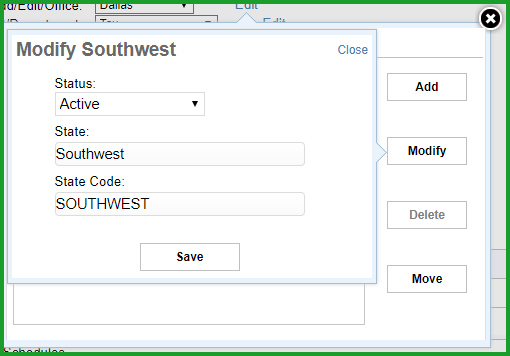 Figure 7 – Modifying a Hierarchy Node
Be sure to save your changes.
To delete a node, click the node, then click Delete. Please note if there is an active employee, an approved timesheet or an active project associated with the node, the node can't be deleted.
To Move a node, click the node, then click Move. You'll be asked to select which organization to move the selected node into. In example below, we're moving the NYC office into the USA \ East \ New York node: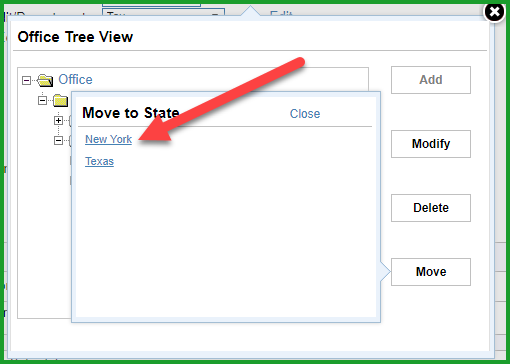 Figure 8 – Moving a Hierarchy Node
You'll be asked to verify the move:

Figure 9 – Hierarchy Move Confirmation
Click OK to continue. And here's the updated structure: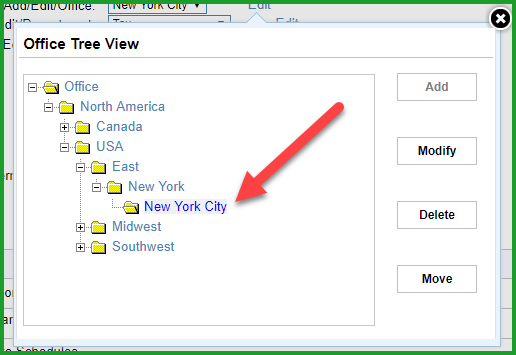 Figure 10 – Final Hierarchy After Move Completed
View Employees
We've added a View Employees option to improve performance on the Administration page. Users can navigate directly to the administration menu options without waiting for the page to display your employees' information. Click View Employee to display your employees in either the list view or card view as selected: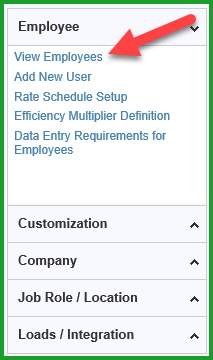 Figure 11 – View Employees
Holiday Lists Management
For those customers who want to simplify company holiday management for their schedulers and timekeepers, we've improved our Holiday Lists Management feature. Holiday imports – names, days and hours – are now done from one place in the Administration \ Loads/Integration menu.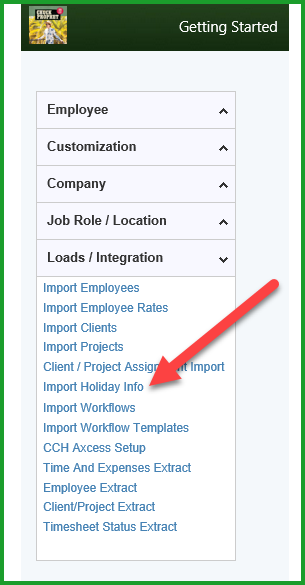 Figure 12 – Holiday Information Import Location
A list of standard US holidays has already been added to the database:
Other holidays can be added using the Import Holiday Info template.
Step 1 – Import Holiday Info
The Import Holiday Info template is used to configure the holiday details, such as the holiday date and whether the holiday is a full day or partial day. For example, some employers give employees a half day on Christmas Eve Day or New Year's Eve Day.
Step 2 – Configure the Office/Employee Calendar
After the import is complete, the next step is to associate the holidays with the Office/Employee Calendars and with the appropriate Client/Project to use for time capture and resource scheduling. From the Administration \ Company menu, select Office/Employee Calendar Setup. Select the appropriate Calendar, then select the Client/Project/Task List/Task details as required by your configuration. Click Save Holiday List to apply the holidays to the Calendar: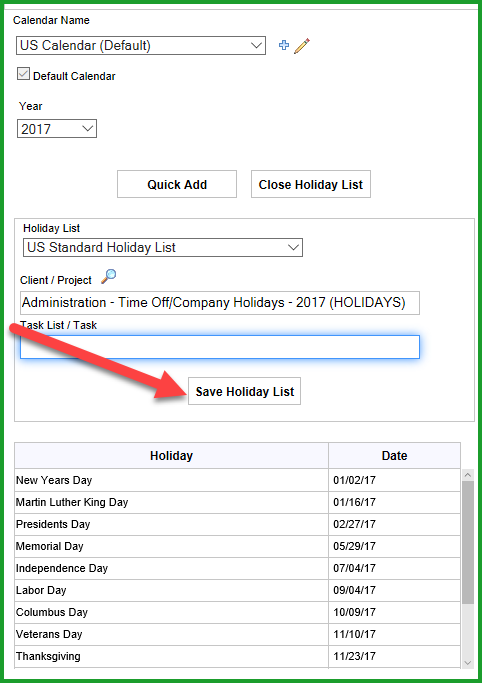 Figure 14 – Applying Holidays to a Calendar
The saved Holiday List will now appear in the company Office/Employee calendar: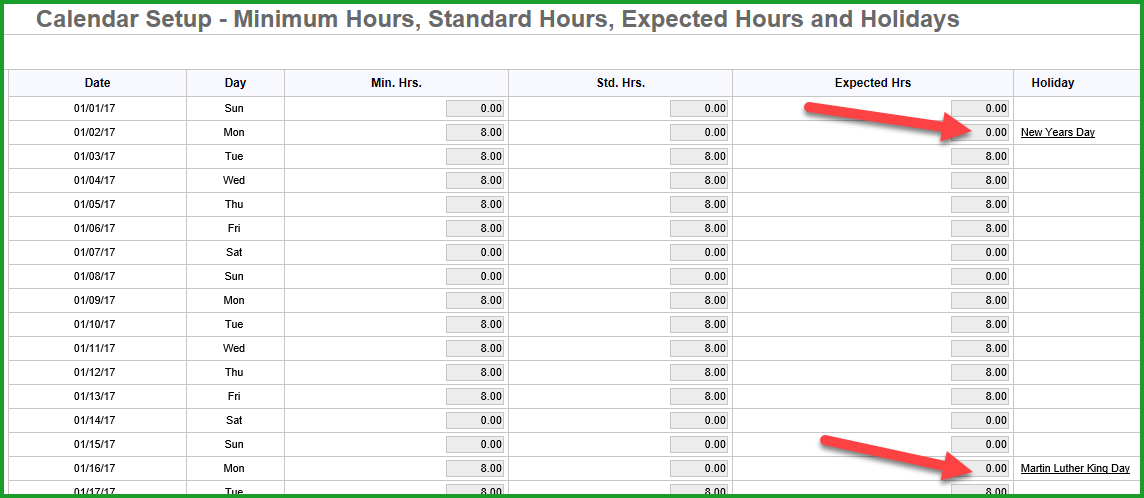 Figure 15 – Updated Company Calendar
And in employee timesheets:

Figure 16 Timesheet with Company Holidays
Company holidays are also integrated with Empire RESOURCE scheduling. For example, if you make a full-time assignment for the week of September 3rd through September 9th, notice Labor Day, Monday, September 4th is not automatically scheduled, although you have the option of scheduling on that day as necessary: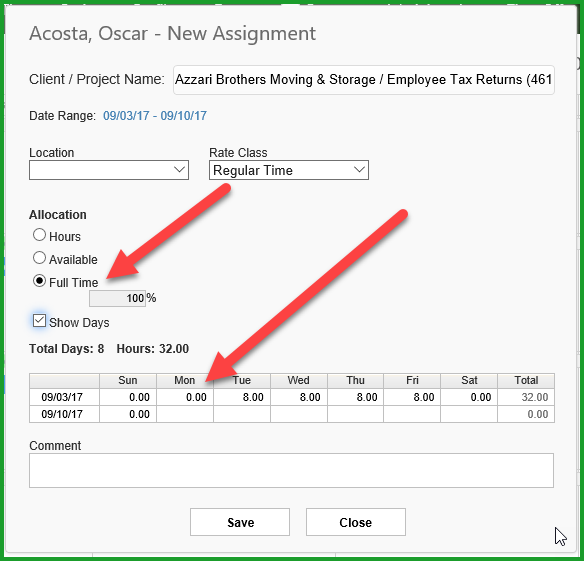 Figure 17 Resource Scheduling with Company Holidays
Timers
For our customers who want to track their employees when the employee is on site with a customer, or for users who want Empire TIME to track the time spent working on an activity, we've added Timers. Timers capture client, project, task list, task, location, rate class and geo-location details and load them automatically into the timesheet using the timer duration. As in the timesheet, Location in the timer details refers to data elements your tenant is configured to capture, such as whether you were with a client at the client's office, at a job site or in your office. To capture specific geo-location information – the physical location of the device along with the device's latitude and longitude – make sure your device's location setting is set to Allowed. (If locations are not allowed, we will prompt you when you start the timer.) Please note we've added four new permissions in the Time/Expense application group for timer users and administrators. The new permissions control whether users can add a timer and whether the user or a manager can modify the collected timer information:

Figure 18 – Timer Permissions
To start a timer, click the Timer icon on the timesheet page:

Figure 19 – Timer Icon
Select a client, project, activity and location as your configuration requires, then click Clock In to start the timer: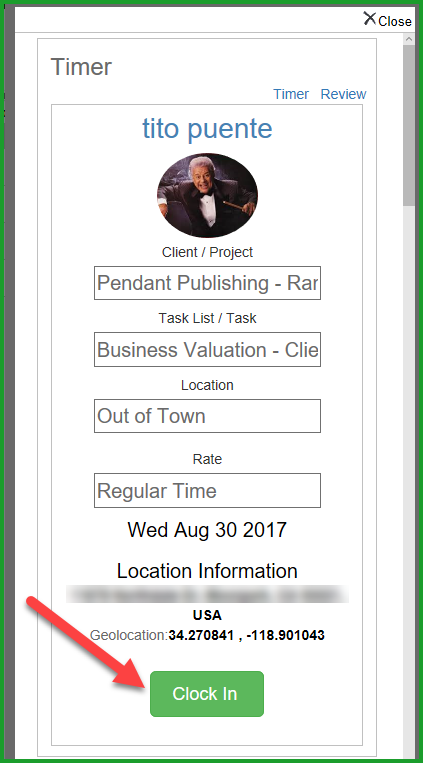 Figure 20 – Timer Clock In
You can Pause a timer to work on a task for a different project, or to answer a phone call or email unrelated to the task at hand, and then restart the timer when you're ready. Click Clock Out to stop the timer, and the time is automatically added to your timesheet.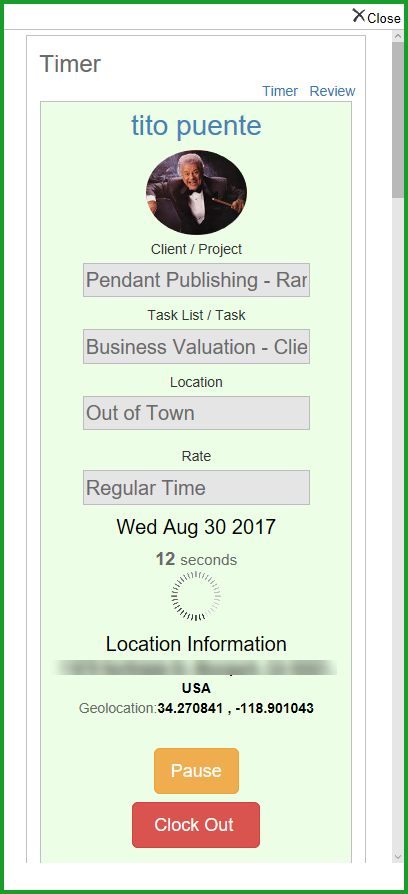 Figure 21 – Timer Launch
When you Clock Out, we'll show you a summary of the timer details, including the timer duration in hours (or fractional hours) to be added to your timesheet: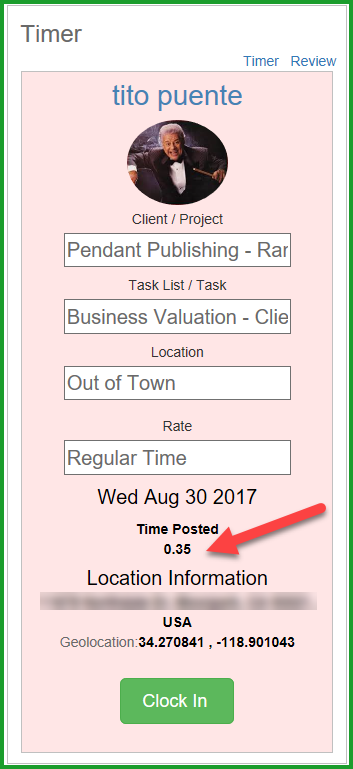 Figure 22 – Timer Information
If you want to review your timers, click the Review link in the timer page. We'll show you all the timers you have for a selected day: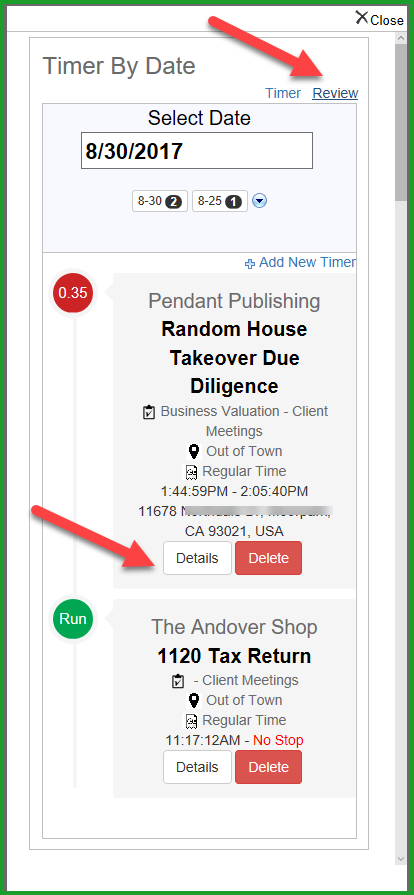 Figure 23 – Timer by Date
To see Timer details, click the Details button. We'll show precise geo-location information, as well as the timer start and stop times: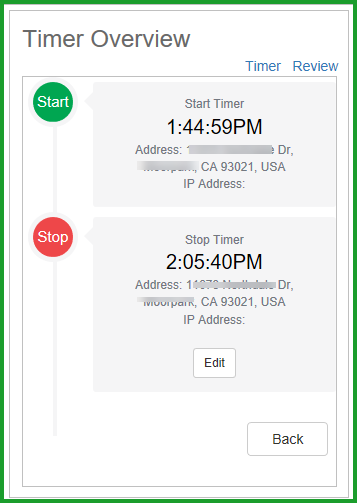 Figure 24 – Timer Overview
Click Edit to verify and/or modify the timer details. You can modify the Client, Project, Task List, Task, Location and Rate Class information as appropriate, as well as adjust the timer Start and End Times. If necessary, you can also make changes to the Start and End formatted location information: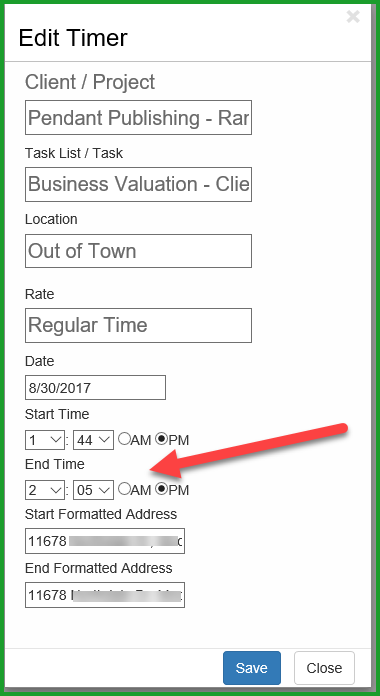 Figure 25 – Edit Timer
When your timer is stopped and the information has been verified, close the timer page and we'll update the information in your timesheet automatically:

Figure 26 – Timer in Timesheet
Timers are also available on your mobile device. Simply use your iOS or Android phone or tablet to login to http://www.empiresuite.com using your Empire SUITE user name and password and the timer screen will be launched automatically. If you want to include geo-location information in the timer details, make sure your device is set to allow locations. Add your client, project, task list, task, location and rate class details per your configuration and tap Clock In to start a timer, same as on the web timesheet.
If your company would like to use Timers, please contact us to discuss your desired parameters – minimum times and rounding values – so we can configure your environment according to your requirements.
Activity Based Web Resource Scheduling
You can now do your resource scheduling at the activity level – task list, task, location and rate class. Select Resource from the toolbar, then click and drag in the desired employee's row to highlight the assignment period, then add the details: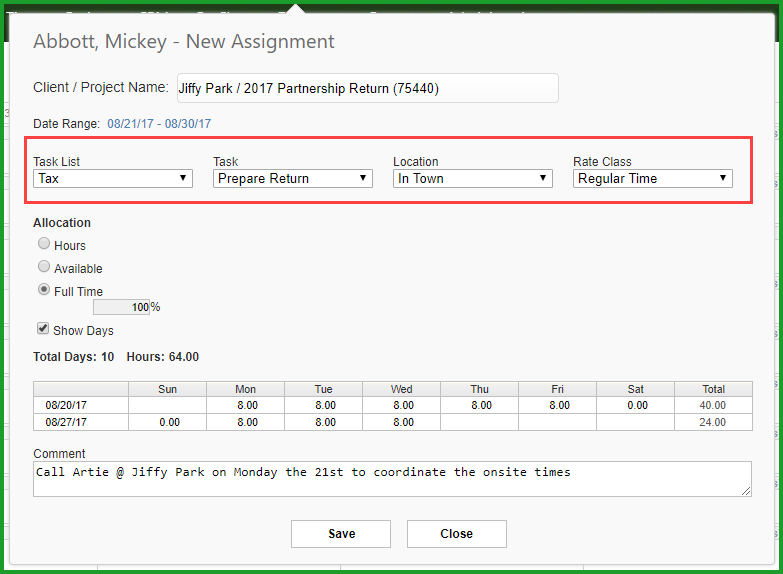 Figure 27 – Scheduling by Activity
After you've saved the assignment, you can mouse over the assignment to see the details:

Figure 28 – Mouse Over Assignment Details
Instant Personal Time Off (PTO) Notifications
We've added instant email notifications for employees and managers when PTO requests are made, approved, rejected, or cancelled:
1. When an employee makes a PTO request, the employee receives an email confirmation of the request
2. When an employee makes a PTO request, the employee's manager receives and email with the PTO request details
3. When a manager approves or rejects a PTO request, the employee receives an email confirmation
4. When an employee cancels a PTO request, the employee receives a cancellation confirmation email