Populate Your Timesheet from Your Outlook Calendar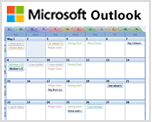 Empire CALENDAR allows you to do all of your time and expense reporting from inside Microsoft Outlook. Whenever you set up an appointment you can code your timesheet entries and have them automatically entered in your timesheet. If you send a meeting request to other employees they can use the meeting details for their timesheet even if they don't use Empire CALENDAR.
Empire CALENDAR Features
Employee time-off types, both paid and unpaid, configured according to your organization's requirements.
Apply optional rules regarding minimum and maximum days notice for making requests and whether the requested time off can exceed the accrued hours
Time-off requests and approvals may be made using our web-based user interface, a mobile application or through email.
Scheduled time-off and reported absences are automatically added to user timesheets.
Separate treatment for employee absences from time-off requests.
Manage employee's time-off accruals, adjustments, and end-of-year balances/carry-forwards.
Employees and managers can view and report time off hours earned, taken, scheduled, and hours still available for use.