Microsoft Project Financials
Empire PROJECT INTEGRATION combines Microsoft Project's flexibility with the strengths of the Empire SUITE by structuring and automating the integration of complex project details into your project accounting and financial applications.
As your resources enter and approve time, your Microsoft Project plan is updated automatically, keeping Project and Program Managers abreast of project progress while Financial Managers have up to date financial information.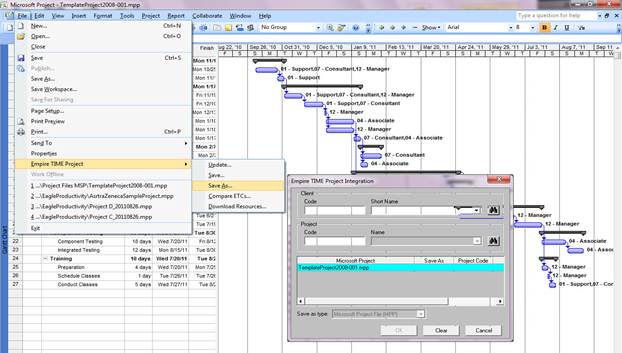 Empire PROJECT INTEGRATION is the perfect link between the Empire SUITE, Empire CALENDAR and Microsoft Project and Microsoft Project Server. Seamless integration between these applications means employee timesheets, Outlook calendars, Microsoft Project plans and Empire RESOURCE schedules are synchronized. Your managers won't need spreadsheets, disjointed email threads or post it notes to manage your resources and project plans.
Once a project plan is created and assignments are made, integration ensures all applications and views are up to date as your resources enter and approve their timesheets. Pre-populated timesheets, automated assignment-related emails and Web home page portals keep managers and contributors informed and on the same page. Managers can identify projects in trouble while there is still time to make the necessary adjustments.
Project Integration Highlights
Empire PROJECT INTEGRATION reduces or eliminates redundant project-related data entry and automates the capture, management, analysis and reporting of project-related resource and activity information.
Gather and analyze project resource and activity information to gain insight, and use that information to manage your projects more effectively and your resources more productively across the entire project lifecycle
Two-way integration updates critical Estimate to Complete information. Empire PROJECT INTEGRATION stores both Manager and Employee ETC values for review and analysis at the detail level